Chamber Member Networking Breakfast: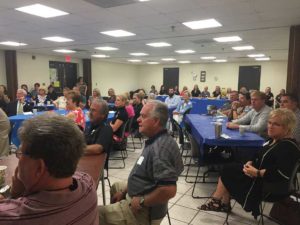 As an active member of the Cocke County Partnership/Chamber of Commerce one of the benefits includes hosting a "Chamber Member Networking Breakfast."  The networking breakfast is held every month beginning in January of each year.  This member networking event can be very beneficial to your business by allowing other chamber members and the public to get to know what your company does in our community and how they can benefit from your goods or services.  The Chamber staff does the marketing and invitations for this event; the cost to the host this event is to provide breakfast for the attendees.  Our database is over 300 people and businesses so the potential for your company to make new contacts by hosting a "Chamber Member Networking Breakfast" is significant.  The Director of the Chamber will do an introduction of the business and their representatives.  We then we allow the business representative to welcome everyone and give an approximately 20 minute overview of what the business does, history, production, etc…we also encourage the business to provide business cards or other marketing materials for the guests to take with them so that your business will stay top of mind with the attendees.
We believe that local networking is an instrumental tool in building better business contacts and is one of our key focus areas at the Chamber of Commerce.  We hope that you will consider taking advantage of this opportunity to help build your business in Newport/Cocke County.
Chamber Lunch & Learn :
The Lunch & Learn Series is another way to promote your business!   Chamber members have the opportunity to sponsor this event for $100.  Topics covered during each Lunch & Learn can be specific to the sponsoring businesses' expertise or the sponsoring business can choose from a list of s
pecific topics provided by the chamber staff.  We will then source out a speaker for those topics.  A boxed lunch is provided for each attendee.  The cost to attend a Lunch & Learn is $10 for chamber members and $15 for future members.  These are great ways to learn more about topics specific to business in today's world as well as general information that could relate to you as an individual such as healthcare related topics.
Chamber Connection Lunch:
Join us each 4th Wednesday for the Cocke County Partnership/Chamber Connection Lunch. It is a great opportunity to further develop your business relationships, network and at the same time support the restaurants that support the Newport Chamber of Commerce. This meeting is a casual networking event. You'll enjoy lunch as you dine at tables of 4-6 people. There are no assigned seats. Spend your lunch-hour making connections and experiencing great food!
Chamber 101:

For our  members we hold a Chamber 101 monthly on the second Thursday from 9:00 am -10:00 am . We have so much to offer and we feel this is essential in promoting your business. We will tell you all of the networking opportunities that are available to you through the chamber. We also go over your personal page and how to make it the best marketing tool  for your business. We go over all your benefits to make sure you're taking full advantage of your membership. The Cocke County Partnership/Chamber Office values you as a member and wants to make sure you get the true value of your membership.
Job Shadowing Program:
The Chamber of Commerce instituted this program in April of 2011.  We worked in partnership with the Cocke County Education Foundation to get this wonderful program off the ground.  The program is open to seniors at both Cocke County High School and Cosby High School.  Each student must submit an application if they would like to be considered to participate in the event.  Included in the application they select the career they would like to pursue after post secondary education.  A panel of local business/community leaders reviews the applications and 30 students are chosen to participate.  After the students have been accepted into the pr
ogram the Chamber staff pairs the student with a local business (Chamber Members) that reflects what career they have chosen.  This is an excellent way for the students to get firsthand experience and make a more informed decision about what career they wish to pursue in the future.  The program takes place during school hours and lasts the entire day. Students are also allowed to use the day for their volunteer hours for the Tennessee Promise program.  This was a huge success in 2011 and we are excited to continue offering it again annually!
Annual Legislative Breakfast:
We are proud to host our ever growing annual breakfast so that you may get the latest legislative federal, state and local updates. This is an opportunity for you to interact with our leaders and get informed regarding issues our state and community faces. The breakfast
typically starts at 8:00 a.m.
Member Mingle:
A New twist on an Old favorite! A spin from Business After Hours is our Member Mingle event that provides
an excellent opportunity for you to enjoy the host business and network the night away! With food, drinks, entertainment and open arms, we invite our members to  relax and mingle with other members.
Shop Local/ Shop Cocke County Campaign:
We do a Black Friday Ad for Chamber Members only! This is an insert in the Thanksgiving Day paper promoting Shop Local where Chamber members can place your Black Friday, weekend specials or just thank your customers by wishing them a Merry Christmas. It's also a way to can also advertise those specials you give every day to future costumers. The Circulation in the Newport Plain Talk will be more than 6,000. This insert will be a professionally created 11×17 edition with the front and back in full color. There will be space for 54 ads using two colors on the inside. We will be bringing this to you again for an unbelievably low price of $25.00. The size of the ad will be 3 ½ x 2 ¾.
"50 More Reasons to Shop Local" campaign:
We will again bring excitement to your business by engaging the community with the "50 More Reasons to Shop Local" campaign with drawings for cash f
or shopping local. We will advertise that if they bring in a receipt from a local Chamber member's business they will be put in a drawing for one of several $50 cash prizes. We hope that will give them 50 more reasons to shop local!